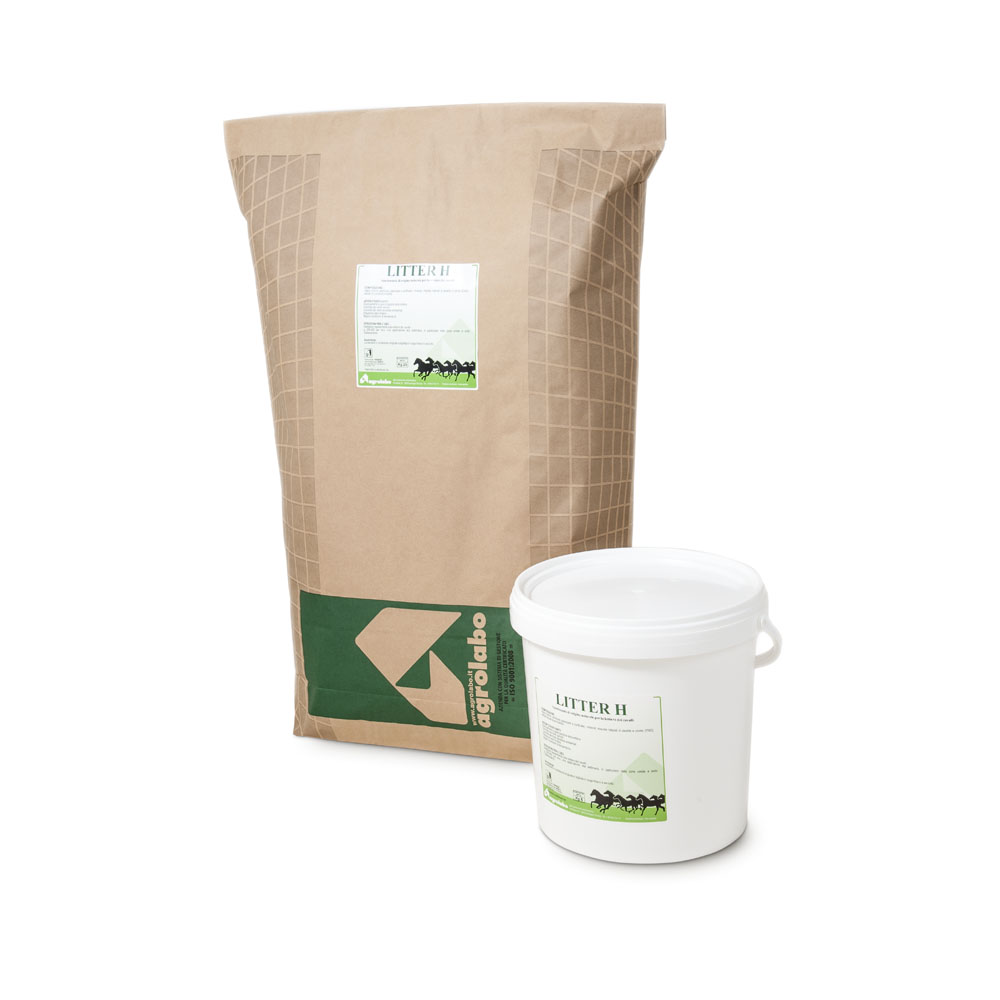 Litter H
Desiccant and sanitizer of natural origin for horse bedding
LITTER H is a powder of natural origin with absorbing and sanitizing action which makes horses feel comfortable.
LITTER H is based on:
calcified marine algae (dried and purified)
blend of natural silicates
biodegradable absorbents
extracts of aromatic plants: Eucalyptus, Rosemary, Lavender, Pyrethrum, Lemongrass
essential oils: Eucalyptus, Rosemary
LITTER H is 100% natural and 100% biodegradable.
 LITTER H is able to absorb a large part of environmental NH3, creating a healthier environment and reducing the risk of respiratory diseases. Even nitrogen poor dejections are less polluting for agriculture.
 It has also a repellent action on flies (thanks to Pyrethrum essential oils).
 LITTER H is also effective for:
increasing the dry matter
decreasing the humidity
reducing the presence of Coliforms, b-glucoronidase positive Escherichia coli, coagulase positive Staphylococci and fecal Streptococci
drying the soil and making it less slippery
breaking down environmental ammonia
drying the horse bedding and, in general, the resting areas
reducing ammonia and bedding temperature
reducing bedding fermentation and bacterial count
supporting the control of health and environmental stress risks
WARNING
Store the product in a cool, dry place and close the sack carefully after use. Avoid the formation of moisture
This must not be used as a feed for feed production
USAGE
Periodically distribute to the horse bedding:
200-300 g per box, 1 application a week, in particular in wet areas and under the trough.
PACKAGING
BUY LITTER H